The Low pH Cleansing Ball for Better Skin – Ongredients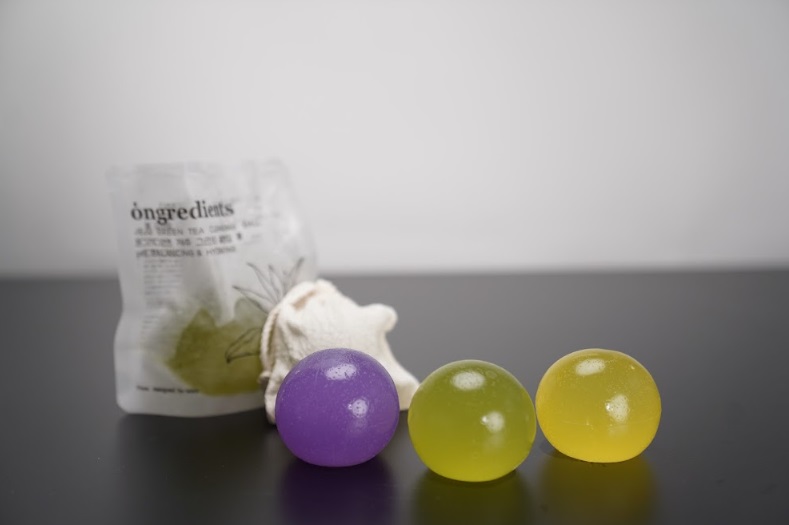 Ongredients, the slightly acidic cleanser with great cleansing power, has launched on Kickstarter.
Slightly acidic pH soap products have been catching our eye lately. The reason: pH levels of 5.5 to 5.8 are supposedly good for balancing the moisture and oil levels of your skin, keeping your skin healthy and moisturized.
If your skin is too alkaline, it can become overly sensitive, leading to skin that is prone to blemishes. But, if your skin is too acidic, then you'll notice your skin becoming oily. This means no matter how much makeup you put on, it'll come right off in no time. Therefore, it is ideal to maintain a pH value of just around neutral to maintain beautiful skin that looks and feels good.
However, most of the products sold on the market are produced with high alkalinity of PH 9-10 to increase their cleaning abilities.
That's why we've been keeping our eyes open for a good cleanser with a slightly acidic pH. Luckily, we've found one such product on Kickstarter: Ongredients. This eco-friendly cleansing ball has a pH value of between 5-6.
We tend to think that cleansers with low pH levels aren't as good at washing away dirt compared to alkaline cleansers. But Ongredients is a game changer. Ongredients' copious bubbles makes it great for washing away dirt, all the while maintaining optimal oil and moisture levels for your skin.
This multi-purpose cleansing ball is a great replacement for all kinds of products, including: shampoo, face wash and body wash. Once you've placed the cleansing ball in the suds pouch, just lather yourself from head to toe – it's an amazing all-in-one product that's highly effective.
But Ongredients doesn't just care for your skin. It cares for the environment, too. Made with all-natural rose, aloe, and algae extracts, the product gives off a lavender fragrance. The aroma is subtle yet fragrant, and doesn't feel artificial at all. Ongredients is also PETA certified vegan, which means it doesn't contain any animal related components.
The many features of Ongredients doesn't end here, though. It's also a zero-waste, zero-plastic product. The ball gradually melts away as you use it, leaving zero waste behind. Even the complimentary suds pouch is made up of plant fibers, making it fully biodegradable!
You can support the Ongredients crowdfunding campaign on Kickstarter, where their campaign will run until the end of August.