Canada's Safest Trampoline Uses a Flexible Net Enclosure
According to the Canada Safety Council, 80 children were admitted to Winnipeg Children's Hospital for trampoline-related injuries in 1997. This brought about a lot of concern with parents who wanted to purchase trampolines for their children but were worried about safety. Since that time, however, the manufacturer has worked tirelessly to improve safety.
If you are looking for Canada's safest trampoline, there are options for both a safe workout and highly interactive jumping experience.If you're in the market for a fun, safe kids trampoline with a net, read on to learn about which safety precautions you should take, and what features are important when picking your new trampoline model.
You may be wondering how to safeguard your kids against injury, and the answer is to choose a model that effectively eliminates injury at the three major impact points: the springs, the frame, and the ground. Springfree trampolines are completely enclosed with a FlexiNet and rely on flexible carbon rods instead of rigid steel poles to support it. This means that jumpers are guided back to the mat by rods that cushion impact rather than resisting the weight of users.
These trampolines also use the same flexible composite rods instead of springs to provide a bounce. Composite rods in these trampolines are installed beneath the jumping surface so it isn't possible for children to come into contact with them.
Another aspect to watch out for is how well the frame is hidden; Springfree builds the frame beneath the surface where children jump, making contact impossible. Springfree's SoftEdge mat provides a 360-degree zone of safety, with no springs or frame to come into contact with, and a FlexiNet to keep you safely in the jumping zone.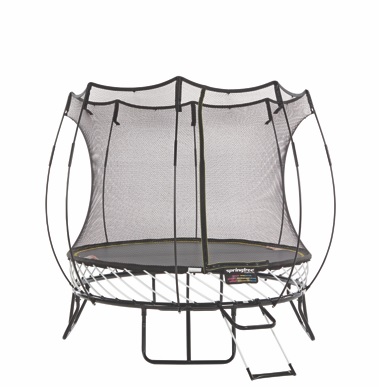 When you're looking for a trampoline, it is highly advisable to look to companies that have won industry awards for safety or outstanding design; some notable awards to look for are: The US Family Choice Award, The International Design Award, or The Parent Tested Parent Approved Award — all of which have been granted to Springfree Trampoline in the past.  Be sure that you also look for companies that don't outsource the construction of their models; you want a company that takes full responsibility for building their models in one facility and that stands behind their product by testing its quality rigorously.
Jumping on a trampoline is a fun outdoor activity that encourages kids to be active, but it's often hard to tear kids away from their screens. This is why Springfree has introduced the world's first smart trampolines by partnering with the tgoma app, digitizing the jumping experience for a digital generation, and keeping kids engaged while allowing them to connect with jumpers all across the globe. Features like tgomaFit allow kids and adults alike the chance to combine screen time with outdoor activity time, staying in touch with friends through the spirit of friendly competition and connectedness.
Between including the tgoma app in their design, and enhancing safety features at the three major impact zones, you can see for yourself how far Springfree has gone to make their trampolines the best for you and your family's exercise and entertainment needs.